---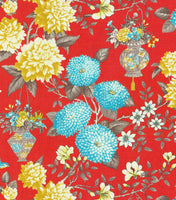 Description

Lightfoot Garden is a large-scale floral design from the CWF Classics IV Collection by Williamsburg. Inspired by antique wallpaper, this design is screen printed on a soft 100% linen fabric and features a whimsical floral and vase pattern. Williamsburg offers gorgeous vintage designs, from classic colors to elegant patterns. Inspired by Colonial Williamsburg, these fabrics offer a mix of classical and transitional designs, often direct interpretations from colonial homes, fashions, and artwork that will fit in any contemporary lifestyle.

Williamsburg Fabrics are made from materials that stand up to abrasion and tension to bring durable, lasting beauty to your home. There is a right and wrong side to this fabric, meaning only one side is meant to be exposed. Lightfoot Garden Fabric is perfect for window treatments, drapery, headboards, bedding, accent pillows, cushions, slipcovers, upholstery and so much more.

Intended for indoor use only. Do not use for outdoor projects.

  Printed Fabric Waverly

Width: 54" (inches)
Note: The price is per Yard in this listing
Text Mark for more info
647 219 1714 Mark

Lightfoot Garden Persimmon

Williamsburg Fabric Collection.

100% linen, traditional Asian floral print fabric.

V 26" H 27" up the roll repeat. 54" wide.