---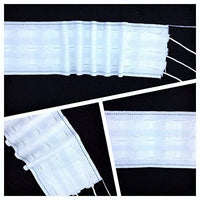 This tape is used as stiffener t the top of the drapery.
3" Pencil Pleat Shirring Drapery Tapes Used for Gathering Drapes and Shades Selling Per Yard
 This item is sold by 1 Yard
Color White
3 String Pull For Gathering
You can order as many yards as you would like and it will be shipped in 1 pc up to 100 yds.
When you order it will come in one piece up to 50 yards
If its panels measure the Flat width of the fabric you will be using.
same with sheer
example
if its 108 inches order 3 yards
 It's usually between 2 to 2.25 the width of the window size
Drapery King Toronto 416-783-7373 For Help